The Iowa High School Boy's State Basketball Tournament is upon us. Some upsets filled the headlines in the 4A field early on along with some tight games in the Substate Championship round. But one constant remains; Iowa City West is the favorite to take home the 2017 title. The Trojans dropped only one game to a team from the state of Iowa when Cedar Rapids Prairie hit 15 3s to win 80-71 back before Christmas. Upstart Newton will get the first shot at Iowa City West to kick off the 4A quarterfinals.
Wednesday, March 8th – 1:05 pm
#1 Iowa City West (20-3) vs. #8 Newton (19-5)
The Trojans from Iowa City West is heavily favored to take home the title. Senior guard Connor McCaffery leads the way, averaging 19.4 points per game along with leading the team in 3 pointers made, free throws made and is second on the team in steals and assists. Devontae Lane is the do-everything bulldog that can beat anybody off the bounce while hitting 38% of his 3s. And sophomore Patrick McCaffery has seen a jump in production in his 2nd season with the varsity squad, putting up 14.3 points per game on 60% shooting from the field.
Newton makes their way to the state tournament in one of the surprising stories of the year. Playing in the Little Hawkeye Conference, they saw mostly 3A schools throughout the season and many believed that the step in to 4A for Substate would lead to their undoing. Instead, the Cardinals beat Urbandale, Dowling Catholic and Johnston to make the state tournament, including winning the final 2 games on the road. Newton will bomb it from the outside and lead the 4A field with 194 made 3s while shooting 38% from downtown. Connor Gholson (20.4 PPG, 76 3s, 39%), Garrett Sturtz (19.8 PPG, 27 3s, 37.5%) & Trey Vanderlaan (10.3 PPG, 65 3s, 42.5%)lead the bomb squad for the Cards.
The Pick:
West Trojans 79 Newton Cardinals 62
Wednesday, March 8th – 2:45 pm
#4 Dubuque Hempstead (18-5) vs. #5 Cedar Rapids Kennedy (18-5) 
This game features two of the better defensive teams in the 4A field. Cedar Rapids Kennedy comes in winners of their last 8 ball games. The Cougars have a balanced scoring attack with 5 players averaing between 14 & 6.9 points per game with Drake Brewster, Derrick Diggins, Jackson Foley, Malik Haynes and Matt Berst. They can all step down and knock down 3s as well, as all 5 of those players have made at least 13 3s.
 The Gazette
Dubuque Hempstead is a balanced team as well. Lead by the Duax's, Connor (13.3 PPG) & Lucas (13 PPG), Hempstead has a lot of length of the oustide and can make it tough defensively. As you'd expect in a 4/5 game, this appears to be a complete toss us.
The Pick:
Kennedy Cougars 59 Hempstead Mustangs 55
Wednesday, March 9th 6:35 pm
#3 Bettendorf (18-5) vs. #6 Sioux City East (21-2) 
Bettendorf takes balanced scoring to a new level with 7 players averaging over 6 points per game. The Bulldogs are big and physical and will look to make the game into a grind fest. Sioux City East may feel that they were under-seeded, bringing a 21-2 record to Wells Fargo Arena. The Western Iowa participant is lead in scoring by Van Rees (20.7 PPG) along with sophomore Aidan Vanderloo (17.3 PPG, 43 3s) & Jailen Billings (13.3 PPG, 38 3s).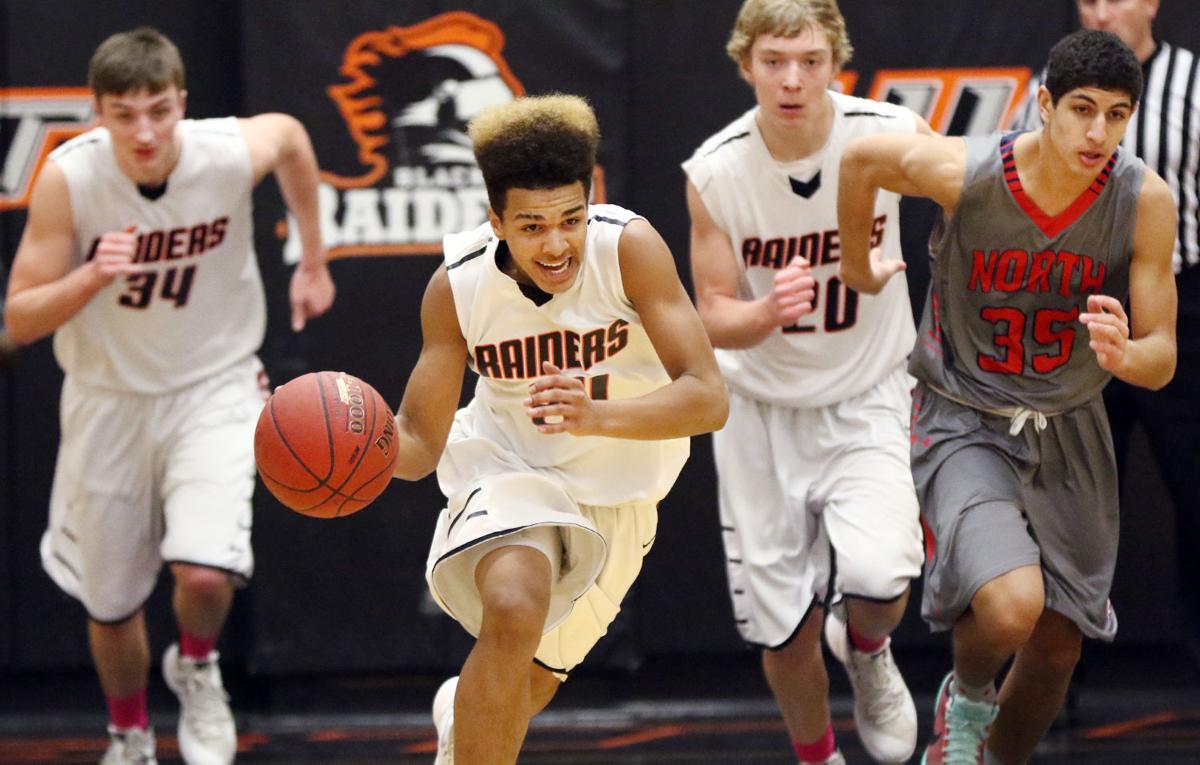 Sioux City Journal
The Pick:
East Black Raiders 62 Bettendorf Bulldogs 55
Wednesday, March 9th 8:15 pm
#2 West Des Moines Valley (19-4) vs. #7 Des Moines North (18-5) 
The Polar Bears from Des Moines North are making their 1st appearance in 25 years at State after Chad Ryan has built this program back up. North is the highest scoring team in the 4A field, putting up 75 points per game as they have won 12 consecutive games. It is a dynamic two man game that leads the offense for North with sophomore point guard Tyreke Locure (25.9 PPG, 45 3s, 7.1 assists per game) and big 6'7 Jal Bijiek (15.5 PPG, 22 3s, 7.5 RPG).
The reigning champions in Class 4A are the Valley Tigers. They played much of the season with senior big man Quinton Curry, who tore his ACL during the summer. Curray has come back to average 9.8 points per game on 60% shooting, but has struggled with turnovers as he works to knock the rust off. Valley has a deep rotation with Austin Hinkle (10.7 PPG), 6'8 Charley Crowley (9.6 PPG) and shooters Reese Skinner, Nate Dennis & Carter Frey.
These 2 teams faced off back in January, with North winning 85-78. Expect Valley to work to control tempo and try to slow things down against the quick Polar Bears. Whoever gets the game at their pace will more than likely punch their ticket to the semifinals.
The Pick:
North Polar Bears 72 Valley Tigers 69
http://martytirrell.com/wp-content/uploads/2016/12/BB.jpg
458
600
Trent Condon
http://martytirrell.com/wp-content/uploads/2017/08/martytirrell_logo.png
Trent Condon
2017-03-06 10:53:22
2017-03-27 16:01:12
4A Boys State Basketball Tournament Preview