A 9 game losing streak to start the season. 103 losses overall, the most losses in team history. 2016 was as ugly as Twins fans have ever seen. It cost general manager Terry Ryan his job. With a win yesterday in Baltimore, the Twins moved to 25-18 on the year and remained at the top of the American League Central. A season ago, the Twins didn't win their 25th game until June 28th to move to 25-51. Without making wholesale changes, this has the look of a real Major League Baseball team. How have they got here? 2 big reasons:
Improved Defense
Last year the Twins made the disastrous decision to try and play Miguel Sano, their promising young third basemen, in right field. Sano was a disaster out there. No surprise. Robbie Grossman was brought in after being waived from Cleveland and proved to not measure up as a fielder as he does as a batsman. Trevor Plouffe and Danny Santana added to the defensive issues. Many questions remained coming into the year on the defense for the Twins, especially on the left side of the infield with Sano at 3rd and Jorge Polanco at shortstop. Polanco has been much better than expected and Sano hasn't been quite as bad as many thought. But the biggest step forward for been in the outfield. With uber-prospect Byron Buxton patrolling center field and plus defenders Max Kepler and Eddie Rosario in Right and Left field respectively, this defense has been able to track down balls that were doubles a season ago.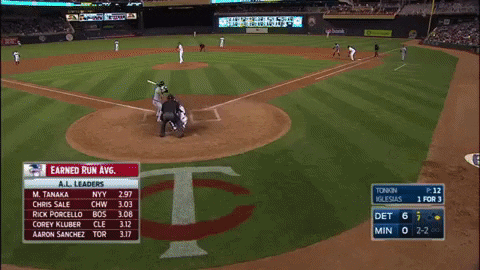 Pitch Framing
Jason Castro was targeted early in free agency from the new front office of the Twins with Derek Falvey and Tadd Levine. They signed him to a 3 year deal for $24.5 million. Many scratched their head about  the signing of a guy that looked like he would hit .220 with 10-12 home runs. Castro's real impact comes in his handling of the pitching staff and most importantly, pitch framing. Castro has excelled for years at "stealing" strikes. Why does that matter? Let's look at the difference between a hitter in a 1-2 count as opposed to a 2-1 count. Batters hit .167 in a 1-2 count, .327 in a 2-1 count according to a 2014 Grantland article from Joe Lemire.
So the question now becomes, can the Twins keep up at this pace and be a contender come September? The young players still have room for growth, Jose Berrios is showing immense promise, Byron Buxton is starting to come around with the bat to go along with his outstanding defense and the bullpen has been incredibly solid on the back end. The good news is this isn't just a team where everybody is hot over a certain stretch. It has been a team effort. We've seen plenty of hot starts fade out in baseball. Many believe that this team will be similar. Something tells me they'll be hanging around longer than many in baseball think.
Trent Condon provides updates and commentary for the Marty and Miller TV program. You can watch "Marty & Miller" Weekdays from 3:00-6:00 on Mediacom 22 and stream at martyandmiller.com or by downloading the "Marty & Miller" app. Trent also hosts "Jimmy B & TC" weekdays from 12:00-3:00 on 1700 KBGG.
http://martytirrell.com/wp-content/uploads/2017/05/twins-logo-2015.jpg
800
640
Trent Condon
http://martytirrell.com/wp-content/uploads/2017/08/martytirrell_logo.png
Trent Condon
2017-05-25 10:31:41
2017-09-13 16:38:17
The Twins Are the Surprise of Baseball - How?